Hey Everyone!!
There were SO MANY great ideas last week! I have a to-do list a mile long! I might need to do a whole week of inspired posts!! (hey, that is an idea!).
Also, I shared a couple of projects this week as well-
On Monday I showed you my table scape full of clearance finds,
Tuesday I shared my back to school index card banner,
and Wednesday I finally showed you all the Tangled birthday party I helped with!!
Now, let's get back to the features!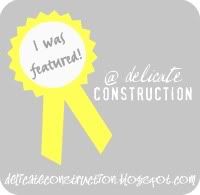 {Dough Rosette Tutorial from Wesens Art}
{Hoop and Ribbon Wall Art from Roxy Love}
{Plastic Spoon Mirror Tutorial from Little Things Bring Smiles}

{Painted Chandelier from Creatively Living}
{Raspberry Lemonade Cheesecake Bars from Mine for the Making}
{Country Chic Dry Erase Board from Spittin Toad}
{Twine Balls from Quinton Wench}
{Painted Tote Bag from Burton Avenue}
{Ruffled Crosby Tote from Shannon Sews}
{DIY Bed Risers from Growing in Grace}