Hope you all had a fabulous Thanksgiving with your families! Mine was great! I even made my first (three) turkey this year! WOOHOO!
Time for some features from Delicately Constructed Fridays!!!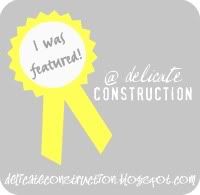 Click "Read More" to see the rest of the features!!
Make sure you come back and link up in the wee hours of the morning!!