Hellllllllllo Happy Go Lucky Readers!!! I am so happy to take over Kara's blog today!!
I do this through various weekly features and linky parties, and I would LOVE if came and visited!!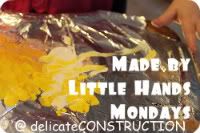 Wednesdays and Thursdays I share new crafts and projects I have been working on with tutorials and pictures, I squeeze some in throughout the week as well but these days are dedicated to those posts. Some of my favorite recent crafts have been:
Thanks so much for letting me babble on  about my blog! Hope to see you soon! 
Thanks Kara!